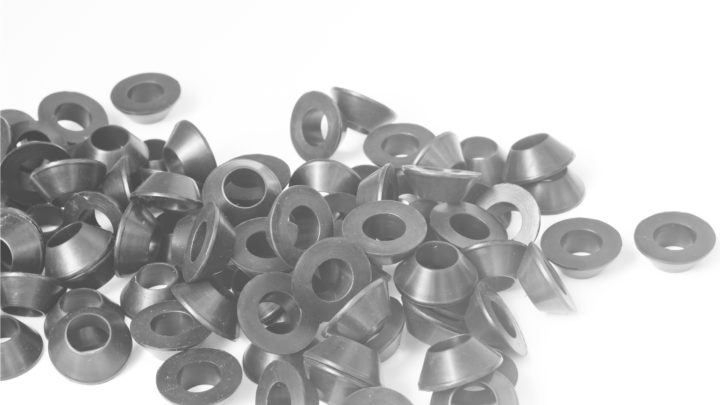 Liquid silicone molding
Among its services, the Plax Group offers the molding of liquid silicone, a material that has many beneficial features.
Liquid silicone molding
Liquid silicone rubber, is used increasingly for high quality parts, obtained using a combination of hard and temperature resistant materials.
Plax Group builds 2K designed molds using the two-stage transfer method or preformed inserts, over-molded silicone articles, by injection, on stainless steel supports special co-molded silicone parts and special qualified thermoplastic materials and co-molded rubber articles.
What is Liquid Silicone Rubber (LSR)?
Liquid silicone is a bi-component liquid silicone rubber useful for the production of elastic articles using the injection molding process.
LSR products are the result of the addition reaction of two different gel-like components. The crosslinking process, comparable to that of vulcanization, can be accelerated or delayed by changing the temperature. It is an irreversible process, triggered when the two components come into contact.
The material is transformed with specific injection presses that ensure the best results are achieved.

Uses of liquid silicone in the Plax Group
Our highly specialized technicians ensure the quality of Plax products, supported by the use of innovative equipment.
The entire silicone injection molding plant is equipped with an automated system for co-molding and dimensional controls with cameras, guaranteeing a high standard of quality of the parts produced.
Silicone is particularly suitable for use in the medical, food and automotive industries.
Technical characteristics of liquid silicone
Products made with LSR have the following properties:
Excellent heat resistance + 250 ° C;
Excellent resistance to low temperatures and cold flexibility -60 ° C;
Excellent resistance to ageing and very good stability under ozone and ultraviolet rays;
Excellent dielectric strength at a wide range of temperatures;
Excellent elastic characteristics in the wide range of available hardnesses;
Excellent adhesion , even to metals;
Excellent elongation at break ;
Excellent breaking load;
Odourless ;
Excellent dimensional stability ;
Compliance with BGA, FDA, KTW standards for food contact.
In addition, Plax Group can make special types of liquid silicone with additional features:
Applications for resistance to lubricating oils;
Conducibilità elettrica;
Flame resistance;
Medical contact;
Fluorinated silicones.
Liquid silicone colours
As a rule, LSRs are transparent. However, they can be coloured by combining colouring pastes with the mixer. LSR is in fact easy to colour, so any colour requirements are easily satisfied.
Other technical features of liquid silicone for molding
Hardness materials available: Hardness = Shore A available from 20 shore to 80 shore