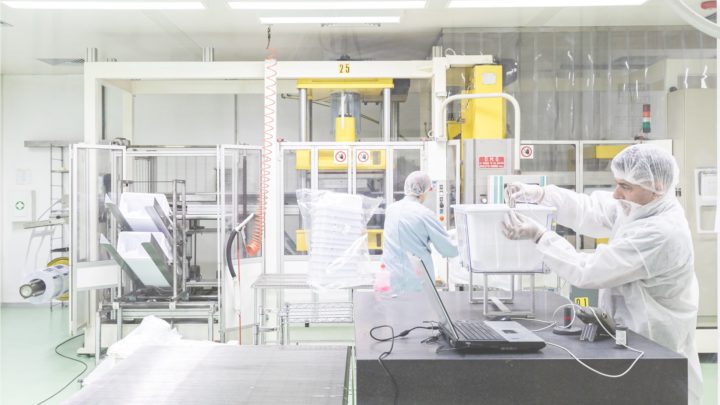 Plastic thermoforming
The Plax Group brings your ideas to life. A complete service that supports all stages of the production process and transforms ideas into finished products.
Vacuum plastic thermoforming
Our plastic thermoforming technology was developed initially in Plax's headquarters in Bologna. Subsequently, the Turin and Milan offices also integrated this technology, while the Plax offices abroad manage the injection molding.
Our vacuum plastic thermoforming ensures Plax customers a competitive advantage, guaranteed by the application of thevery latest technology in vacuum thermoforming plastics. Thanks to the continuous innovation that distinguishes the Plax Group, we can obtain articles of complex shape at a lower cost; Plax has accumulated extensive experience in manufacturing:
Trays / plateaus for the internal and external movement of goods;
Protection devices for industrial processes;
Box interiors for containers;
Supports for promotional items;
Containers for the biomedical sector;
Transparent clamshell and blister packs for retailers;
Displays / stands.
The advantages of plastic thermoforming
Plastic thermoforming technology guarantees the possibility of using different materials of varying thickness and colour, depending on the technical requirements and the mechanical or qualitative characteristics of the product to be made.
We could therefore summarize the benefits of plastic thermoforming as follows:
General advantages of using vacuum plastic thermoforming;
Flexibility of production quantities;
Low initial investment for the molds;
Possibility of molding even large products;
Use of different thicknesses
Rapid creation of prototype and final molds

Fields of application of plastic thermoforming
Plastic thermoforming technology is used in various sectors. Plax has extensive experience in the biomedical sector, the retail sector and the industrial sectors, as well as in the manufacture of promotional products.
Plax also offers a series of additional services complementary to the technology.
Other processes: Cutting - Assembly - Welding - Painting:
Plax guarantees the provision of ancillary processes, such as the assembly of products made using thermoforming with other products either supplied by the customer or produced in our other factories in Italy, Romania or Tunisia. The additional services offered by Plax are welding, painting and screen printing.
Technical features of Plax thermoforming
The materials that are used for vacuum plastic thermoforming are: PET, PETG, HDPE, ABS, PMMA, ABS-PMMA, HIPS-PC, PP, PVC.
Plastic thermoforming dimensions and thickness
Coil thermoforming
Maximum size:
800 mm x 800 mm (Medical);
1100 mm x 1300 mm (Non-Medical);
Spessori: max 3,0 mm (HIPS only);
max 1,2 mm (PVC;PET; PETG, PC, HDPE, PP);
Plate thermoforming:
Maximum size: 2200 mm x 1200 mm
Thickness: max 10 mm
Machinery fleet
18 plastic thermoforming machines
4 cutting robots
Thermoforming in cleanrooms
ISO 8 certification
Plastic thermoforming and quality control
Plax also uses measuring instruments for the quality control of thermoformed products in terms of size and relative tolerances, thickness, resistance, etc.